Why do I even bother?
Before the summer ends, I have to do some maths work from a book that supposed to prepare me for the AS level course. I don't really mind, since I've nearly forgotten this stuff anyway.
Or rather, I wouldn't mind, except it's a CGP book. It obviously wasn't enough being the bane of my existance with their sarky comments in their revision guides, and putting stupid stuff on the back cover that each person in the class would gradually notice throughout the year.
In case you haven't got the idea yet, my book is entitled "Mind the Gap", and this is the sort of thing I have to deal with whilst I'm trying to read the questions: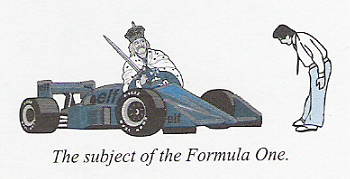 IT'S A FUCKING KING SITTING IN A FORMULA ONE CAR WITH A RANDOM STUDENT BOWING TOWARDS HIM.
Really, it used to be funny, but it's just pissing me off now.
Tags: fluff / Posted on 27 Aug 2005 at 21:43
⇐27 Aug 2005 - even if you think the developers aren't very funny. / 26 Aug 2005 - Yes, another feed.⇒
Feedback
Feedback is closed. Feel free to contact me privately.